With the rise of TikTok and other social media platforms, creating engaging and professional content with your mobile phone has never been more important. Nowadays, anyone can take out their phone and record a video, but what sets you apart is how you do so. That's why Gravity Enterprises LLC introduced their revolutionary phone case, the Gravity Case. Contrary to its name, the Gravity Case is a phone case that defies gravity. By creating a phone case using nano suction technology, Gravity Enterprises LLC has introduced a phone case that can stick to any flat smooth surface, finding their niche in the content creation space, enabling influencers and content creators to record videos hands free from almost any angle – something you can't do with your typical clunky tripod.
The Gravity case is a unique phone case that can easily stick to any flat, smooth surface. It uses the nano suction technology in order to push the boundaries and provide you with a unique, clever perspective that you can always rely on. The great thing about the case is that it can hold your phone on any surface. It uses revolutionary nano suction technology on the back of the case which enabled you to stick the case to any flat smooth surface without any worries.
Additionally, you will notice when you use the Gravity Case is the fact that you can use it from any angle at any given time, such as from a window, mirror, or even the ceiling if it's flat and smooth! It looks great, it allows you to easily change the angle and how you shoot, while also not damaging the surface you stick it to. The suction cup will work thousands upon thousands of times, so all you must do is to grab your Gravity Case and start using it. It's really that simple.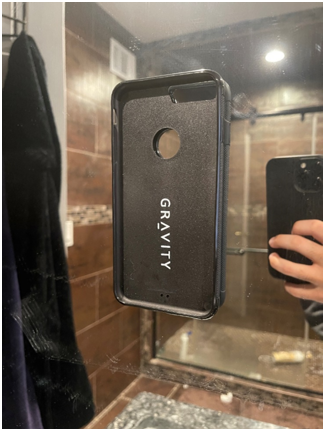 The main reason why the Gravity Case is so unique, and a great pick is that it allows you to record videos hands-free. Whether you want to go live on social media, take pictures without having to hold your phone or just need more flexibility while you video chat with friends, the Gravity Case is the ideal option. You can ditch the use of a tripod and instead have fun enjoying a cool, fun way of taking photos.
The cool thing about this case is that it will keep your phone there until you take it off. Plus, it doesn't take a lot of effort to remove the case from the surface you stick it too. Once the case sticks to any surface, it will stay there and keep your phone safe.
You can easily operate it on that surface, set up the photos and customize them the way you want. It's an exciting and very creative way to take photos, and one that helps push your content creation to the next level. This way you can focus on recording your videos without relying on a tripod or any clunky accessories. The Gravity Case is simple, efficient and it protects your phone more than you would ever imagine as well.
What you will love about the Gravity Case is that it's a very reliable, versatile product. You just need to rinse it with a bit of water and then pat it try, once you do that you are good to go. Because the back of the case is water resistant, you can wash the back of the case as many times as you like to get it good as new!
This is not just a novel case that just sticks to any surface and offers no protection to your phone. Instead, the Gravity Case is reinforced with a very high quality TPU which means your phone is protected from scratches and cracks, which is essential in a phone case. You can rest assured that your phone will be safe and away from any damage or problems that might arise.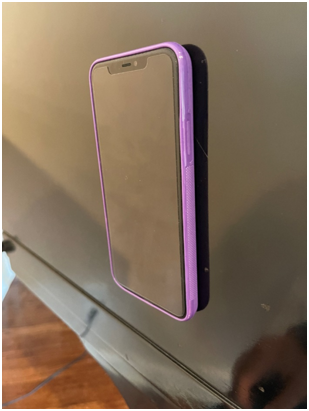 If you want to record videos hands-free, talk with friends through video chat and have fun finding new ways to express yourself, try out the Gravity Case today. It's a creative product and one that pushes the boundaries in a unique and creative manner. This case protects your phone, and it makes recording videos so much easier. It's one of the best investments you can make if you take a lot of pictures and photos, and you will be very impressed with how they come out.
The Gravity Case has seen success through its efforts in social media advertising. With over 15K followers on TikTok @gravitycase, and over 10K followers on Instagram @gravityphonecase, the brand has caught the attention of many interested in their product. It's clear to see the company has found its niche with its unique and useful product.