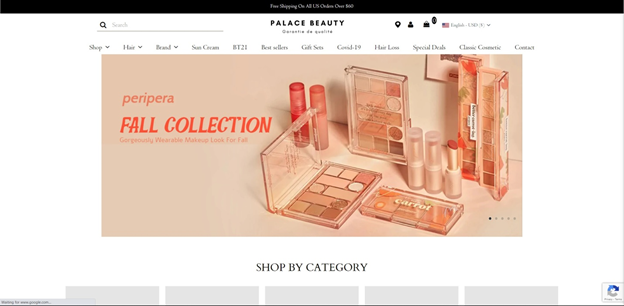 A particularly popular Korean store specializing in spa and personal care is Palace Beauty.
Interested customers can visit their retail location in sunny Los Angeles, California. However, those living abroad can visit the online store. Regardless, everyone is greeted with a wide variety of up to 1400 Korean-made products in the categories of skincare, hair care, makeup, bath & body, and accessories on the online store. This company offers domestic and international shipping at no-cost for orders totaling beyond $60.
Moreover, this brand is trusted in its niche, with 4.5 out of 5 stars on Yelp based on 100 reviews. Customers have universally praised their ongoing deals, particularly with face masks, and their high-quality beauty products selection straight from the nation of Korea, along with their polite staff.
Most items bought from the online store ship directly to you. Yet, if you happen to live in a region near their retail location, you have the opportunity to pick up the item in-store from the moment of checkout. In addition, you can receive a notification the second your order is ready.
Several of the best-selling products include repair masks, herbal shampoos, pure water wet wipes, and collagen peptide serum. To appeal to fans of Hello Kitty, many products are wrapped with the brand. Palace Beauty also has a good following on social media, with close to 2,000 people on Instagram.
For those seeking out the most sanitary of products, the COVID-19 selection has one of the widest arrays of premium facial masks seen in a beauty store to date. They not only come in a variety of colors but can also be filtered by product type, brand, and price. In addition to the masks, they offer sanitizer sprays, cleansing wipes, gloves, and mask straps.
The hair section sees products divided by shampoo, treatment masks, conditioner, essence, oil, lotion, colors, perms, brushes, combs, wax, iron, cover touch up, and sets. What's more, the company has partnered with other influential Korean brands like The Creme Shop BT21 to sell products in a shared pool. Such collaborative products are sold in unique collections that cost below $10. They are thematic and colorful, with different animals on the various covers.
Certain products are bundled as gifts to make it easy to surprise loved ones and friends on a given day. In addition to collagen sets, they sell serum sets, trial kits, essence, and skincare sets for outstanding bargains.
Other special deals include premium products for sale on the holidays and other times of the year in which they would be sold higher. For instance, TS NEW Gold Premium Shampoo Set + Free Shampoo this product been a complete hit and received superb customer feedback currently on huge discount from $170 to $147
This is an incredible Korean beauty store in Los Angeles. They have an unmatched collection and incredible customer service.