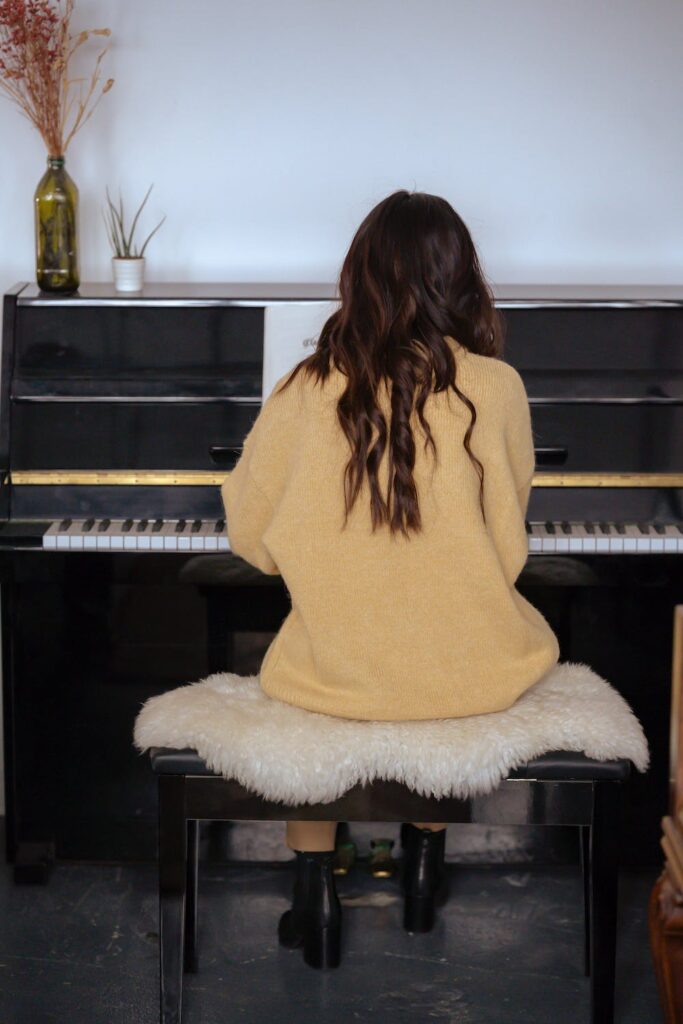 At some point, even the best piano students will face days of feeling bored and uninspired to tackle their daily practice. Although motivation can occasionally be difficult to muster, students can incorporate a few easy changes to inspire a return to the piano. The following ideas outline seven steps to fight boredom during piano practice.
1.Set Specific Practice Goals
One vital step to conquering boredom is for students to determine what to practice and how to approach it. When students go to the piano bench, it is beneficial to have specific goals written out. Students should ensure they know exactly what their teacher expects them to accomplish each week and plan how to practice difficult passages. Having clear goals helps students focus quickly and use their practice time efficiently, leaving little time for boredom.
2.Listen to Inspiring Performances
Perhaps a truly beneficial way to spark creativity in piano practice is to listen to renowned musicians perform keyboard masterpieces. The excitement, artistry, and sheer finesse of some performances often restore students' interest in piano practice. Most cities offer professional orchestras,universities with music performances, and numerous other public recitals.Many performances are also available to watch online whenever a student wishes to find inspiration.
3.Use Creative Methods for Technical Passages
Practicing difficult technical passages in piano music is not only tedious but sometimes unproductive if continually done the same. Changing up practice patterns and methods to tackle tricky technical work can reinvigorate the mind and get the fingers to move past any plateaus. Even though muscle memory work is necessary, a focused and engaged thought process is even more critical.A new, fresh approach is a great way to fight practice boredom.
4.Incorporate Sight-Reading into Daily Practice
Students practicing the exact same piece each day will undoubtedly find it dull and unexciting. Pulling a few easier pieces off the shelf and spending warm-up time sight-reading through something new can be stimulating. Playing a few easy pieces also helps build confidence and is often relaxing since students are not trying to perfect it. Sight-reading also helps students discover new piano works that they may want to learn in the future.
5.Spend Time on Review Pieces
Along with sight-reading, students should spend time reviewing previously learned pieces they loved learning. These works get easier over time,allowing students to sit and play something fluently and expressively without struggling. Students who incorporate review pieces in their practice give themselves something satisfying to look forward to when they go to the piano.
6.Break Up Practice Sessions
Most students have a limitation on how long they will sit on the piano bench and stay focused. A great step to fighting boredom is breaking up practice time into smaller chunks. Students potentially concentrate better for about 20 minutes at a time and may be more motivated to accomplish practice goals with shorter sessions. Two or three 20-minute sessions may be ideal for students struggling to stay motivated for longer practice times.
7.Find an Ensemble Partner
Finding a duet or ensemble partner is a terrific step to rejuvenating piano practice time. Two students working together creates energy, promotes leadership, and encourages students to prepare their music.Students may well experience a surge of adrenaline and excitement to practice, knowing they are obligated to play their best with another student.
Final Thoughts
Playing the piano takes many years of dedication to truly master the instrument. Students will likely face occasional boredom and lack of motivation to practice throughout their journey. The simple steps discussed in this article may prove helpful in getting students back on track and renewing their enthusiasm for continuing their piano practice.