In a recent tweet, Piers Morgan quietens a user straightforwardly saying that his opinion matters because he has a body of support and following.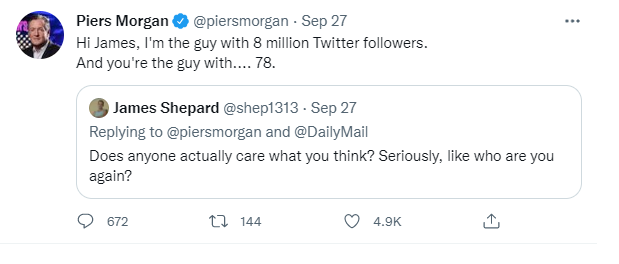 The English journalist, 56, wants to share his views about the visit of Duke and Duchess of Sussex to New York by writing a column in Daily Mail. He tweeted "I've felt duty bound to write another @DailyMail column about the Prince & Princess of Polluting Hypocrisy & their campaign to start a new renegade money-grabbing rival Royal Family.
Posting soon…"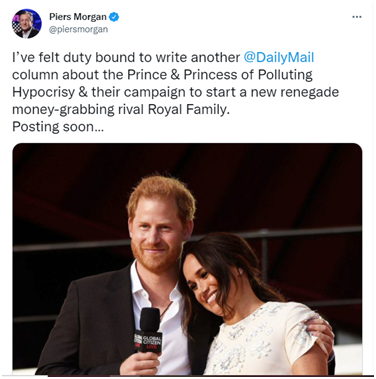 A guy named James Shepard replied to this tweet writing to him that no one cares about his opinion. Morgan's reply to the user is rare but shows that he has the capacity to hold the tongue and earn respect for his opinion. He acknowledges himself as someone having an important view to be shared with the public.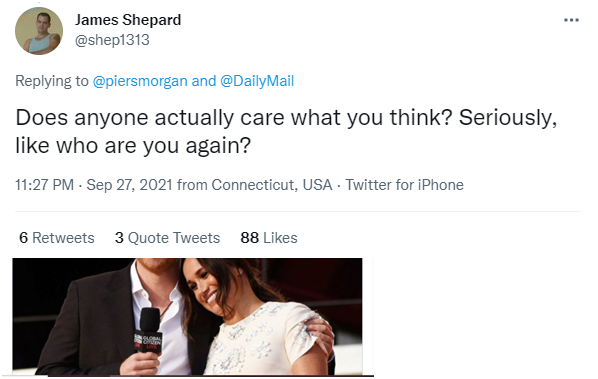 The known journalist of the UK shares his new column through his official Twitter account as "We need an urgent vaccine to save us from the Duke and Duchess of Polluting Hypocrisy – and their cynical campaign to set up a rival money-grabbing renegade Royal Family".
While the audience from New York welcomed them warm heartedly and enjoyed their presence at the Global Citizen Live Concert. They appeared at the event for the purpose to promote COVID-19 vaccine access to all to stop the virus spread. Piers Morgan demands a vaccine to save the world from the hypocrisy of this royal couple.
It was a four-day tour by Prince Harry and Meghan Markle to the US where they visited the museum and met the authorities of New York before making an appearance at the main event.
He has used severe words in his column and writes straightforwardly that their mission is to put comparison into action. He openly shares his views about this royal couple and criticizes their action of attending the event for an apparent cause. He writes in the column that the couple visited the United States to get them engaged in "a shameless, relentless orgy of self-publicizing, money-grabbing duplicity".
He as a straightforward answer to those who opposed or questions his views saying that people care about his opinion and want to know what he says in his column as he has 8 million Twitter followers.
Morgan is known for his straightforward and witty replies. He has made a come back to the screen to roast the Americans considering them rude little madams with liberal series. His CNN show was canceled for debating the American people and their issues including guns. This British guy has a fabled personality among the Americans.