Republic of Georgia actress Marie Karkashadze continues her reign on the acting world with the release of her latest film "The Dress" written and produced by a talented group of female filmmakers including Marie herself and her co-producer Anny Zubiashvili. The film tells the story of a woman on house arrest who is granted a one-day visit to see someone very dear to her heart and puts everything into looking her best with her makeup on and chosen dress. When the day doesn't start out as planned and the dress ends up with spilled coffee on it, the woman receives a call from her lawyer which reveals something unexpected. The woman ends up having an emotional moment of uncertainty and sadness but decides to seize the day no matter what gets in her way.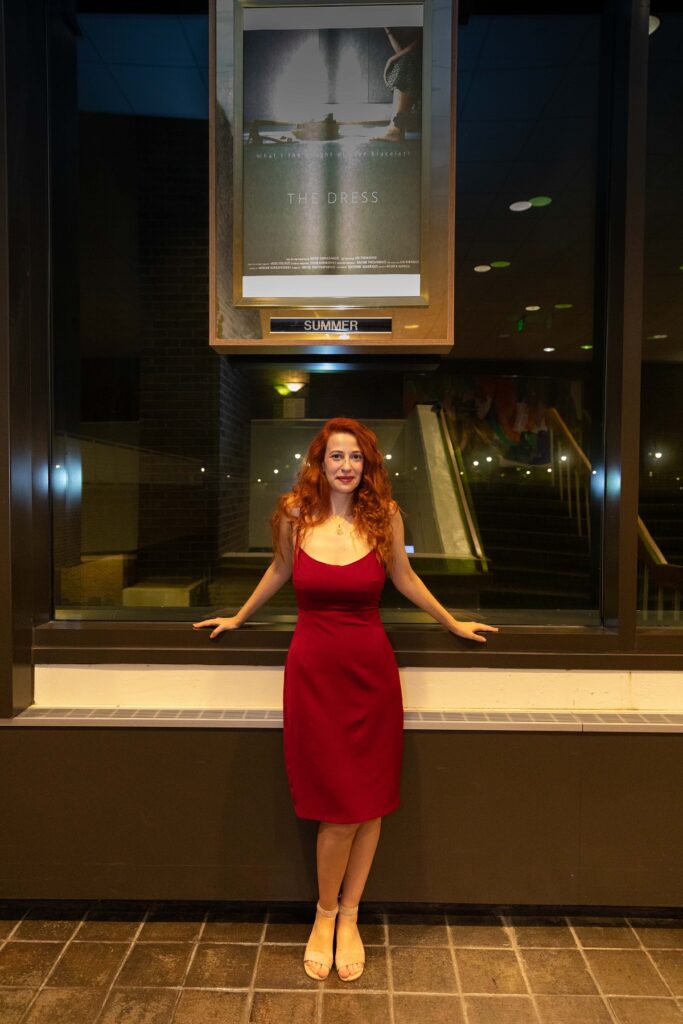 The moral of the story is, women are often expected to do everything by the book and are ridiculed or judged if they don't live up to the expectations that women are forced to live up to -and are quickly knocked down if they make a mistake. The Dress will leave you with a sense that it is okay to have bad days and moments but with perseverance no matter what we are going through, is what will inspire others to do the same.
Not only did Marie Karkashadze put on an incredibly captivating performance in The Dress but she also produced and directed the film which was shot in the Republic of Georgia and is a co-production of Georgia and the USA. The Dress has been well received by critics across the board and is currently making the festival rounds. It was an official selection at GOLD film festivals like, "The Woods Hole Film Festival", which has been showcasing independent films spotlighting the work of emerging filmmakers from around the world for 31 years and at the Stony Brook Film Festival, which is produced by the Staller Center for the Arts in Stony Brook, NY and this year will mark the 27th year of this highly competitive and selective ten-day festival. The Dress was also screened at the Women's Film Festival in Newark, NJ which is an organization educating the public about issues affecting the lives of women by using platforms like film and social media as a way to raise awareness The Dress is also an official selection of the Tallgrass Film Festival, the largest independent film festival in the state of Kansas for 20 years, where it will screen at the end of September. Although this film is only starting on the festival circuit, it has already proven to be a massive success. We can only imagine what other exciting opportunities there will be for the film after audiences across the world catch a screening and get to watch an amazing performance by Marie Karkashadze.
Acting since a young age and growing up in the Republic of Georgia, one of Marie's stand out roles was playing the lead of Nia in "So What That Lilac Is Wet" which ran for 10 seasons as well as countless theater productions and roles. When Marie was a student at New York Film Academy, Hollywood actor Matthew Modine, known for films like The Dark Knight Rises, Married to the Mob and the Netflix hit series Stranger Things, gave her a scholarship for a whole semester to finish her studies at NYFA. To qualify for this scholarship, recipients need to demonstrate the values set forth by the New York Film Academy to further the art of visual storytelling. Those who are successfully chosen, receive $5,000-$10,000 per year based on the criteria which includes an audition or portfolio submission, academic performance, professional experience, and participation in the arts. Out of hundreds of participants, only 5-10 scholarships are awarded per year. Proving that she is here to stay, Marie Karkashadze was one of those chosen few!
In an industry where it is common to see actresses make their mark on the acting world, what stands out the most about Marie Karkashadze is not only her talent and versatility as an artist, but her determination and will to succeed. This is what makes her a truly inspirational woman and obviously what A-Listers like Matthew Modine could see in her!!
To check out more about "The Dress" visit: