In her recent tweet, Kim Kardashian West asked for support to the ongoing efforts for the justice of Julius Jones.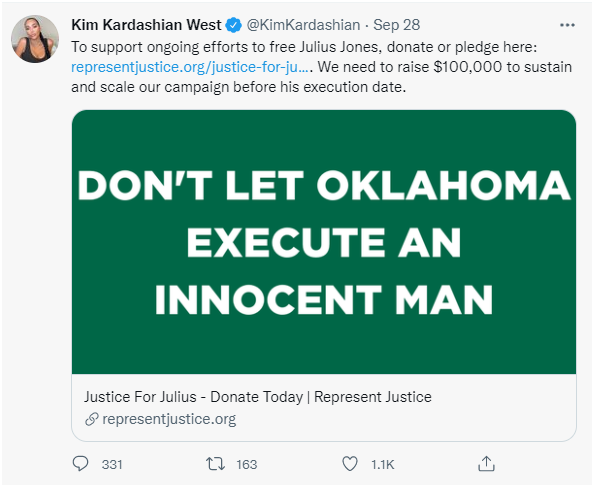 The Music Executive Jason Flom and Kim Kardashian, model, are highly motivated among personalities to support Julius Jones as his case is near to the execution. The boy is convicted of a crime that he didn't commit.
Kim writes in her recent tweet that "To support ongoing efforts to free Julius Jones, donate or pledge here: https://representjustice.org/justice-for-julius-donate-today/. We need to raise $100,000 to sustain and scale our campaign before his execution date." It an appeal to the followers and those who can stand with Julius to get him released from the wrongfully convicted crime. He is on a death row in Oklahoma.
Despite of the innocence, the boy has been the target of the racial slur. This case has not been defended by the lawyer properly and the racial bias has staked the promising future of Julius.Kim Kardashian is also supporting this campaign of justice for Julius Jones due to the racial prejudicehappened with the boy.
Pardon and Parole Board Chairman of Oklahoma has doubts in this case and he said, "I believe in death penalty cases there should be no doubt, and put simply, I have doubts in this case, I cannot ignore those doubts, especially when the stakes are life and death."
Julius Jones was only 19 when he was convicted of the crime, 19 years back in 1999. He was studying at the University of Oklahoma on an academic scholarship. He was also an athlete. Jones was far away from the scene of the murder, at this parents' home, at the time of the crime. There are eyewitnesses to support this notion.
On the other hand, the co-defendant of Jones has been released after testifying against Julius. Julius Jones is only dragged into the case because the hair length of the shooter matches with him.
The public openly supported and asked for justice for Julius but no other personalities have been notice promoting the justice for Julius cause on Twitter.An online petition has been signed by more than 6.3 million people at change org for "Julius Jones is innocent. Don't let him be executed by the state of Oklahoma."
Julius is on death row while he has always said that he didn't commit. This wrongful conviction is going towards its last defense. The model asks for support before the execution date of the case. Julius has already spent half of his life in prison waiting for justice and execution. The time is near!