The vice president says in a recent tweet that "We can build an economy that gives working people a fair shot, restores fairness to our tax code, and makes crucial investments that we need to fight climate change. We need to pass our Build Back Better Agenda and the Bipartisan Infrastructure Deal."
Kamala Harris, the vice president, is much into the Build Back Agenda and the Bipartisan Infrastructure Deal as she says that the government can build an economy with the strategic plan. She is a supporter of the plan despite of the criticism over the bill.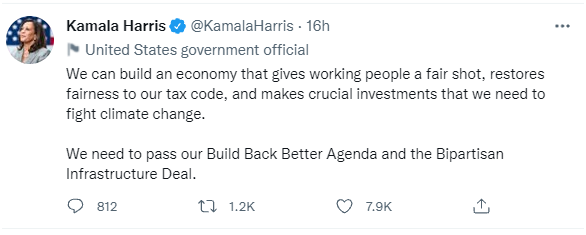 Recently, president Joe Biden tweeted about his plan that it is a zero-dollar cost plan. The agenda of this bill is to utilize $3.5 trillion reconciliation funding for climate, family leave​, education and expansion of the social safety net. This funding is a contradictory point in congress to vote for this bill. The price tag attached to the agenda is opposed by many.
In response to the president Biden's Tweet, the Republicans called this claim as a lie. GOP's House Judiciary called it false that it is "zero dollars" agenda.
Kamala Harris is strongly in the favor of the plan and posting positive things to gain more supports for it. This plan is ambitious to create jobs and lower the taxes for working families. The cost of the agenda is to be paid through an IRS crackdown that will be based on the taxpayers. The government is looking into increasing taxes on higher earrings and big businesses. The proposal is to increase the tax rate from 21% to 26.5% for corporates. The income tax rate for the individuals other than corporates will rise from 37% to 39.6%.
The support of the vice president for the bill is still a big action as there is also an internal battle over the price tag of $3.5 trillion. This white house' plan is not considered costless but still it is important for building a better economy, according to the vice president.
The vice president further said that this bill will bring so many benefits to the common people by lowering health costs, child-care costs, cutting taxes for middle class and making investments to bring climate change. While the payment will be supported by the ultra-rich and corporate sector of the country.
Before the tweet under discussion, she also posted "We have an opportunity to prove to the American people that their government works for them—not just those at the top. We must deliver by passing the Build Back Better Agenda and the Bipartisan Infrastructure Deal." She said it via the official twitter account.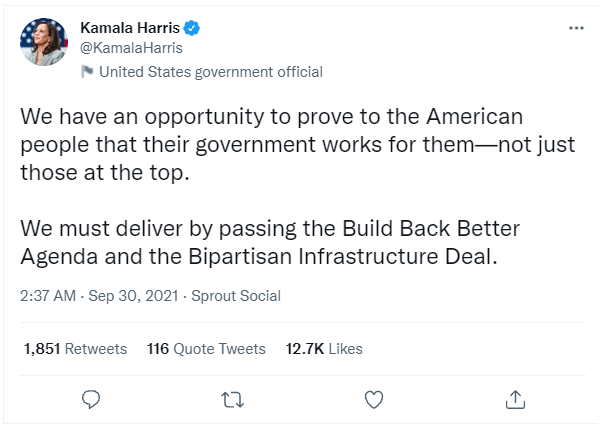 The future economic infrastructure of Biden is still in debate.