When an individual is injured in a motor vehicle accident involving a police car, it can be extremely confusing. Depending on the situation, there may be different laws and procedures that must be followed to ensure you get the compensation you deserve for any physical or psychological harm caused by the incident. Knowing what steps should be taken if you've been injured in an accident with a police car is important to make sure your best interests are protected during this critical time. In this blog post, we explain what needs to happen if you begin facing legal repercussions due to being hurt in an auto accident with a law enforcement vehicle—so continue reading!
Being injured by a police car does not necessarily mean you were wronged
Accidents happen, and sometimes they involve police cars. If you've been injured by a police car, it's easy to assume that something went wrong and that you were wronged. However, it's important to understand that this isn't always the case. Police officers have a difficult job and sometimes they're put in situations where they have to make split-second decisions. While they're trained to operate their vehicles safely, sometimes accidents can happen. It's important to approach the situation with an open mind and get all of the facts before making any assumptions. It's possible that you weren't wronged, but rather just in the wrong place at the wrong time.
Gather information and evidence
After ensuring your immediate safety and health needs are addressed, it is crucial to gather as much information and evidence as possible. Document the scene of the accident precisely and take ample photographs if you can. Note down the police officer's name, badge number, patrol car number, and any other relevant details. If there were any witnesses, try to get their contact information and an account of what they saw. Additionally, seek immediate medical attention regardless of whether you feel injured or not, as some injuries may not manifest immediately. A comprehensive medical report will not only aid in your recovery but will also serve as a critical piece of evidence if you decide to pursue compensation.
Document the incident with photos and eyewitness accounts
Immediately after the accident, if you're physically able, it's crucial to gather as much information as possible. This includes taking photographs of the accident scene, the vehicles involved, and any visible injuries you've sustained. Additionally, gather the names and contact details of any eyewitnesses who can corroborate your version of events. Writing down your firsthand account of what happened while the memory is still fresh can also be beneficial. These pieces of evidence can be invaluable when you're seeking compensation for your injuries.
Seek medical attention for any physical injuries
After the incident, it's paramount to prioritize your health by seeking immediate medical attention. Whether injuries are apparent or not, it's necessary to have a full medical examination as some injuries may not show symptoms immediately. A licensed healthcare professional can detect these injuries and trauma, and start the appropriate treatment plan. Remember, your medical records can act as substantial evidence in your claim process, documenting the extent and nature of your injuries from the accident, so ensure all visits, treatments, and progress are well-documented.
Contact an experienced lawyer
Reaching out to a lawyer skilled in handling cases involving law enforcement can be invaluable. After a police car injury, consulting with a police car injury lawyer who specializes in such cases can help clarify your rights, guide you through the legal process, and ensure the best possible outcome for your situation. They can guide you through the complex legal landscape, helping you understand your rights and the best course of action to take. They can negotiate on your behalf, deal with insurance companies, and if necessary, represent you in court. Legal matters can be complicated and stressful, especially following a traumatic event like an accident. Therefore, having an experienced lawyer by your side can provide you with the support you need to navigate through your situation. Remember, the goal is to make sure your rights are protected and you receive the compensation you deserve.
Stay informed about your case and consider filing a complaint
Don't hesitate to file a formal complaint if you believe the police officer was at fault for the accident. It's essential to voice your concerns and let the law enforcement agency know about the incident. In some cases, your complaint might instigate an internal investigation, which could be beneficial for your case. However, always consult with your lawyer before taking any such action. They can guide you through the process, ensuring that your complaint is properly filed and your rights are adequately protected. Remember, every step you take can significantly impact the outcome of your case, so it's crucial to always stay informed and proactive.
File an insurance claim if necessary
Filing an insurance claim is another crucial step in the aftermath of an accident with a police car. Contact your insurance company as soon as possible to report the incident and start the claims process. Be prepared to provide all the necessary details such as the date, location, and circumstances of the accident, along with any evidence you have gathered. This could include photographs of the accident scene, medical reports, and witness statements. Your insurer will investigate the claim and determine the amount of compensation you are eligible for. Remember, dealing with insurance companies can be a daunting process, so consider having your attorney handle these interactions to ensure your rights are upheld.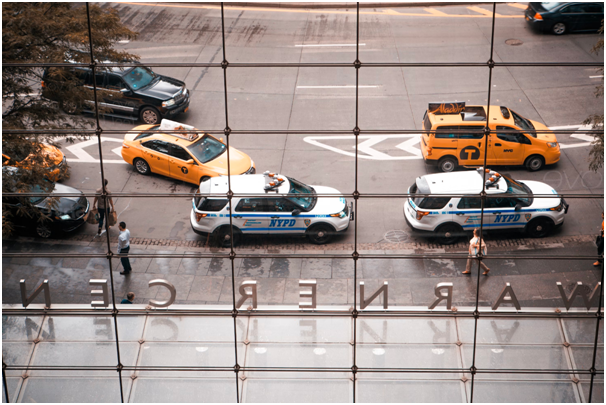 When faced with the aftermath of an accident involving a police car, it's essential to navigate the situation carefully. While not all accidents imply wrongdoing, gathering detailed information and evidence, prioritizing your health with immediate medical attention, and seeking legal guidance from an experienced lawyer are crucial steps. Consider filing a formal complaint if you believe the police officer was at fault, stay informed, and take an active role in the process. Filing an insurance claim is another significant step, and having your attorney handle these interactions can help ensure your rights are upheld. By following these steps, you can protect your rights and work toward a fair resolution, ultimately safeguarding your best interests.