After reading hundreds, no, thousands of resumés over the years, we can honestly say that Mayanka Goel's is one of the best we've ever seen. It's not simply well written, which it is, but it is also chock full of her incredible accomplishments in such a short time.
Just for starters, she came all the way from Mumbai, India, to earn an MFA in Dramatic Writing from NYU Tisch School of the Arts. Being accepted to the Tisch School of the Arts is itself a major accomplishment, which demonstrates high intelligence and perseverance on Mayanka's part. Getting in is a highly selective processin which the applicants are held to exacting academic and artistic standards. She also won a full scholarship to this prestigious program.
Mayanka is definitely the real thing. She is an award-winning writerwho understands the inner workings of the entertainment industry and she is currently the screenwriter on a horror feature for an independent American Producer. She is also working as the Showrunner's assistant at Nickelodeon. In that capacity she is writing synopses, summaries, and script notes for all 13 episodes of the multicam sitcom Erin & Aaron (Nickelodeon and Netflix).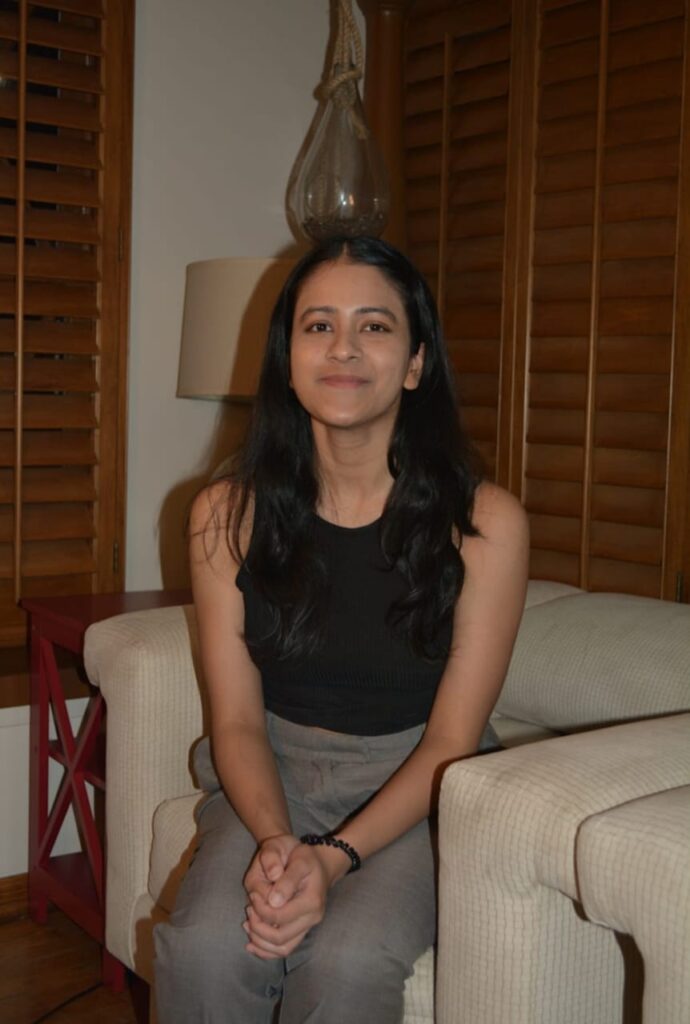 Oh, did we mention that Mayanka won a $10,000 Writing award from the Alfred P. Sloan Foundation, which is a nonprofit that supports art and research based in science? We could stop right here and everyone would feel satisfied that this woman from Mumbai is the perfect example of excellence in achieving and manifesting her dreams. But wait, there's more, much more.
In India, before she came to the states, she worked for three years as the Senior Creative Lead at the digital advertising agency Schbang Digital Solutions.While there, she wrote The Conversation, a film about mental health which was developed in partnership with mental health awareness professionals, starring Tanmay Bhat (one of India's foremost standup comics) and Tanay Chheda (from Oscar-winning film Slumdog Millionaire). She also created viral ads and campaigns for Fevicol – one of India's biggest and oldest brands and a Cannes Film Festival award winner for advertising. She also creatively headed the $80,000 campaign for Fevicol's 60-year campaign, including digital posts and ad films.
She wrote and creatively headed ad film for Finolex Pipes (the largest manufacturer of PVC pipes in India) for theatrical runs, and wrote a set of recipe films for FirstCry, which is an Indian baby products retail corporation. She also wrote a set of ad films for Raw Pressery, a clean-label beverage brand. One of these starred popular Sri Lankan actress Jacqueline Fernandes.
Her unique writing skills were also used to create the first ever short films (Team Patil, Coorlawala Century, Go Goyal) for Humans of Bombay, the photoblog with over 3 million online followers.Mayankaheaded the launch of Baskin Robbins' new ice-cream for kids called Jumbbles. And she wrote an animated jingle for it and oversaw everything from conceptualization to post-production. She worked directly with CEOs of these accounts among many others: Baskin Robbins, Clinique, and Kaya Skin Clinic. She led the campaign strategy, scripting, pitch, and ad film production on annual and product launch campaigns.
As you can see, Mayanka has had a great deal of experience in the entertainment writing field and we have only scratched the surface. There are simply too many notable successes in her resumé to put into this limited space. She is a wonderful writer and obviously a hard worker who not only writes exactly what is called for, but she completes it on a deadline. Mayanka Goel is truly the real thing.­­