Cris Cordero, a recognized art director in the field, who has established herself as a key player in the experiential world in Miami. She has been the recipient of major recognitions, like the prestigious D&AD Pencil, that awards international excellence in design and advertising; the annual Graphic Award, that spotlights the highest achievements in worldwide creativity; as well as the renowned, Summit Creative and Creative Conscience Award, that celebrate creative engagement in socially valuable projects. She established Miami's first non-commission-based art gallery for performers and up-and-coming artists, and founded the renowned, and experiential design establishment, called TAKEOUT,that specializes in art experiences and creative events.
We caught up with art director, Cris Cordero to talk about her pivotal involvement in creating the spectacular evening, The Coronation.
Welcome Cris, before we get into tiaras and crowns, can you tell us a little about yourself?
Yes, hi my name is Cris Cordero, and I am an art director. I was born in Switzerland, but soon made my way across London, Madrid, and Tel Aviv until landing in the US to study Advertising and Sociology at Boston University. Over the years I have worked with major brands, such as HBO and HBO Max, Marvel Studios, Synchrony Bank, Petco, and pharmaceutical giant Merck & Co.
In more recent years, I directed a shoot for the 10-year anniversary of world star photographer Rankin's HUNGER Magazine, as well as several international beauty, fashion, and jewelry campaigns.
For those of us who may not know, can you explain what an Art Director does?
Art directors typically oversee the work of other designers and artists who produce images for television, film, live performances, advertisements, or video games. They determine the overall style in which a message is communicated visually to its audience. For each project, they articulate their vision to artists and in collaboration with them create campaigns, commercials, images, radio or television spots, as well as paid social media content. The most traditional route to becoming an AD is to study design, copywriting, and marketing either at college or portfolio schools. Formal education is usually mixed with practical experience gathered through internships at advertising agencies, design or text competitions, creative thinking and marketing workshops, and freelance jobs.
What was your first ever gig?
I actually started when I was very young making flyers and invitations for events. My parents would always throw big parties and when they realized that I loved creating short simple messages and creating my own posters for my room, they asked me to design their invitations and it became a tradition. I even got a (very, very) small payment for it; I think they paid me in chocolates!
Flash forward, how would you describe the projects that you typically prefer?
Challenging and relevant. I always enjoy doing beautiful things just for the sake of filling this world with more beauty and creative stimulus, but what really entices me to put everything to the side is a project that matters beyond the creative world. Projects that have a larger social or cultural meaning and the potential to challenge people's thinking.
Talking of larger social or cultural meanings, tell us about The Coronation in Miami?
The Coronation was an exclusive party for Miami's most renowned artists to discuss issues of self-doubt and suicide in the community. It was called The Coronation because guests received a "build your own crown" kit and were invited to come celebrate themselves and others and be the King or Queen of their own progress and achievements for a night.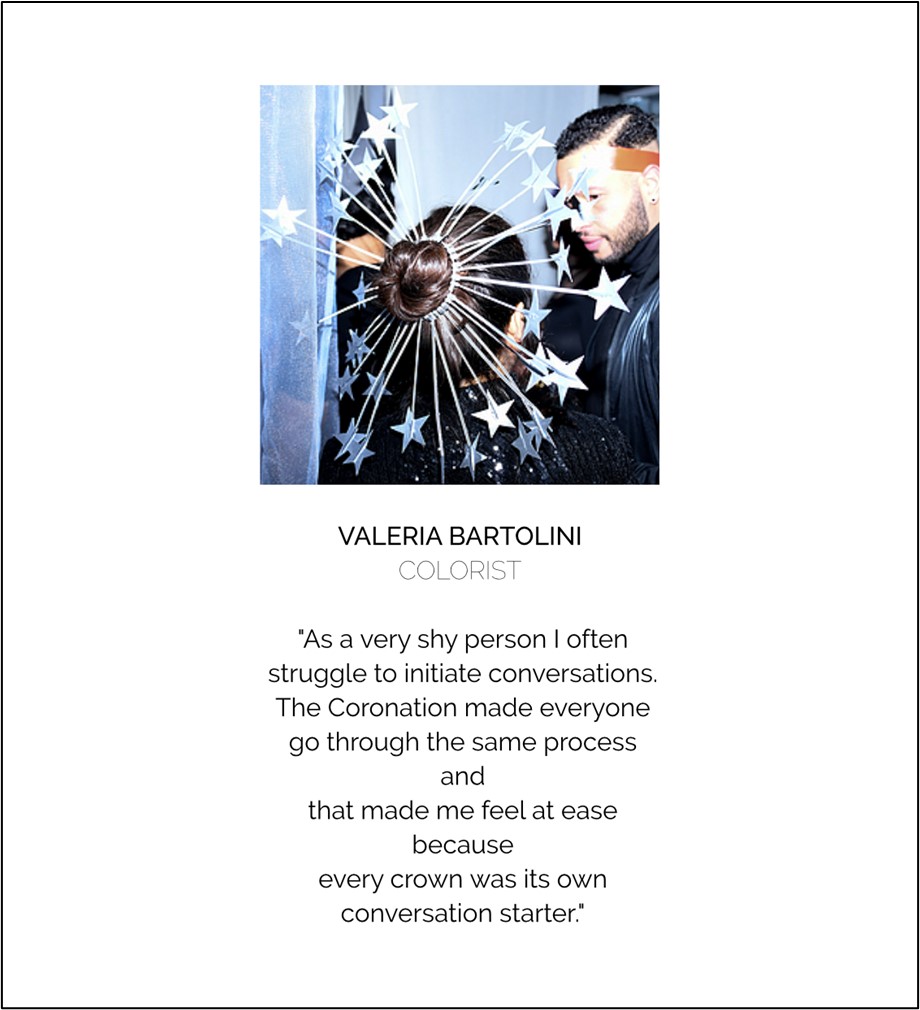 Who attended and who was involved?
The Coronation involved five artists of different disciplines and invited 90 of Miami's most influential creatives. Their crowns were a way for them to "break the ice" as conversation starters.
What happened at the event?
The Coronation asked one crucial question to all its artists and attendees: What do all creatives have in common? And what I found was that the answer was the fear of never being good enough. So, in a year marked by suicides in the creative community, the event invited 90 of the most creative heads in Miami to a modern-day coronation.
The goal was to battle depression and self-doubt by giving guests an opportunity to crown themselves the King or Queen of how far they have come in their careers. And since I was talking to creators and makers, I decided to send invitations in the form of a DIY Crown Kit, meaning every person invited to The Coronation was sent a box with a blank paper roll, glue, and the instruction to create their own crown in whatever shape or fashion they wanted to express their skills and creativity through.
People were also asked to fill out an RSVP questionnaire concerning the topic of self-doubt and their own definition of "having made it". That way The Coronation was able to shape the look and feel of the event according to people's answers and attitudes towards their own creative world. So, once they arrived at the event, artists were not only already "crowned" as the King or Queen of their own craft but were also able to enjoy a night alongside fellow creatives in similar and familiar headspaces.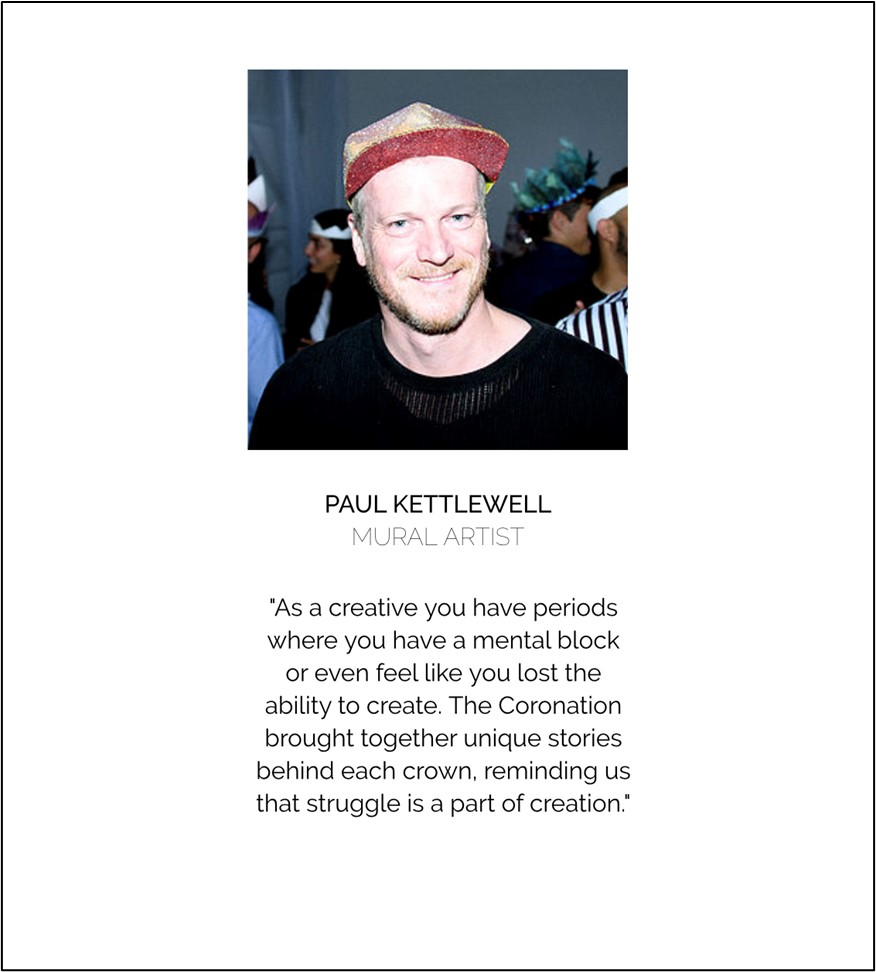 Have you set any 2024 goals to achieve?
My goal is to expand my New York network of creatives. Whenever I lived in a city, I was always very quick to connect with the people at the pulse of the place and time. But due to the pandemic, my first two years in NYC included so much isolation and distance (both physically and emotionally) from many other creatives, that I find myself only now truly stepping beyond the connections and contacts I had before moving here. It is also the nature of the city that things change at a crazy speed, so keeping up takes two feet firmly on the ground and your eyes and ears open at all times. Now that I am established in the city, I am excited to focus more on creating new connections and to expand my creative abilities.
What's the best way to follow you online – link please.
For all professional inquiries, please follow me at @pitusa1 or via my website www.criscordero.com