Black Panther Wakanda Forever Actor Jarrell Pyro Johnson plays the lead role in "Dinner with the God of War" feature film! Jarrell plays the lead role of Kratos in the film that is set to release November 2023. We had an exclusive interview with Jarrell Pyro Johnson about the making of the film and his role. Read further to find out all the behind the scenes and more!
Q & A with Jarrell Pyro about his latest film Dinner with the God of War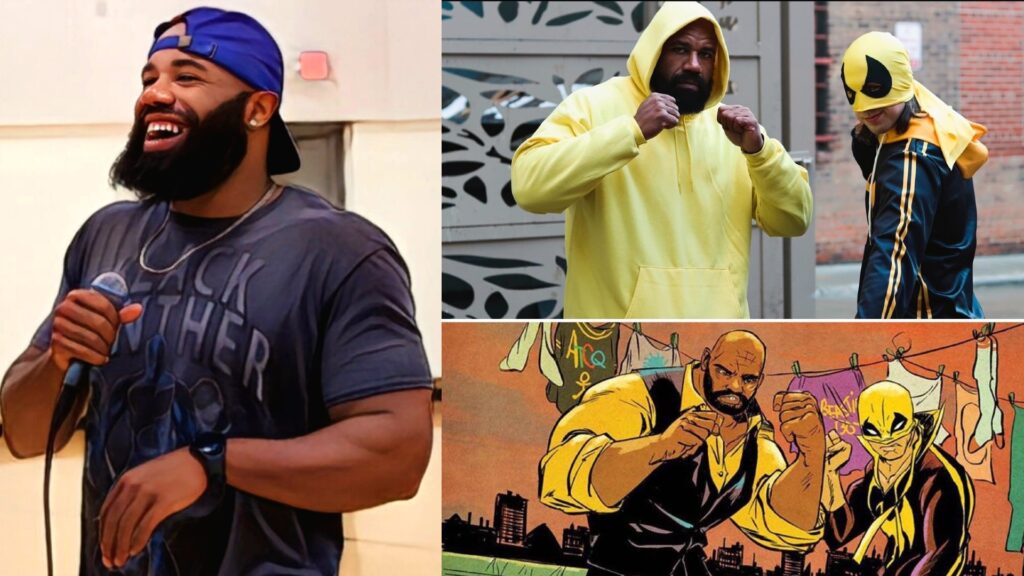 Q: Jarrell, congrats on your latest leading role! How was your experience getting into character for the role?
Jarrell Pyro Johnson: Preparing to embody the almighty God of War was no small task! With some hard work, a few tough workouts and a healthy dose of attitude adjustment, I was ready for action. I embraced my inner power with vigorous training regimens, studying and eating habits tailored towards becoming the perfect living embodiment of Kratos. Ultimately, the experience has been an unforgettable journey and my intense preparation must say is truly payong off.
Q: Can you tell us more about the film?
Jarrell Pyro Johnson: The exciting fan film Dinner with the God of War is an awe-inspiring look into the world of Kratos, one of gaming's most iconic characters. The heartfelt story follows Kratos as he reflects on his past deeds and reveals his struggles, dreams and desires for the future. Through captivating narration and gripping visuals we gain a unique insight into this legendary warrior and the gods he clashes with in his epic struggle between rage and redemption. Witness firsthand what drives him to battle against overwhelming odds, striving for personal growth even as he faces one opponent after another. With its profound examination of mortality, power and fatherhood, this fan film provides an intimate look at a complex character who remains both feared and beloved by legions of dedicated fans.
Q: Do you have any memorable moments on set or any fav scenes?
Jarrell Pyro Johnson: So far since we have not fully started shooting everything yet, the best thing about Dinner with The God of War so far has been its excellent writing and characterization. The script is well-crafted and full of emotional complexity, making for a truly engaging watch. On top of that, the cast amd the crew thus far as seemed like a very close family to me just sa much as they seem to be to each other. I couldn't have asked for a better cast amd crew. I ultimately know that the strong acting performances will definitely draw you in to the world and make it come alive. The visuals are also quite impressive, creating an atmosphere that really pulls viewers in and immerses them in this epic story. All these elements have combined to form an utterly captivating fan film experience that's sure to stay with fans long after they've watched it.
Q: Do you have any special shout outs?
Jarrell Pyro Johnson: A hearty shout-out to all the aspiring kid filmmakers and budding dreamers out there! Have you ever felt like your dreams don't matter or have been too much of a challenge? Don't give in: take that spark of passion and create something wonderful that expresses your vision. Immerse yourself in exploration, experimentation, and steadfast dedication, learning from every misstep along the way. Know that you can use setbacks as springboards to success; they will make you stronger and more resilient. Film is not just an art form — it's a powerful tool with which to communicate ideas, connect people, and bring hope during even the darkest periods of our lives. You have something unique to offer… so never stop reaching for greatness!
Q: Favorite motto for success?
Jarrell Pyro Johnson: My motto and one of my most go to quoted by me is "Life is A Musical, So Play your Part" which pretty much means: Life comes with magnificent highs and devastating lows. Embrace the determined spirit of an actor striving to perfect their performance and take every experience as a chance to learn and grow. Utilize each and every opportunity, no matter how small, to craft yourself into the extraordinary person you are meant to be. Don't be discouraged by temporary defeats— they are simply tools for aiding in your journey towards achieving true success. Remember that life is full of showstoppers and moments of glory, yet even more important than any triumph is the unyielding passion and dedication that has been devoted in order to achieve it. Rejoice in overcoming obstacles, actively seek out adventure; Life is a journey waiting to be explored- don't ever waste it.
Dinner with God of War Official IMDB:
https://www.imdb.com/title/tt25321074/reference/?mode=desktop&