Cannes, May 26th – The highly anticipated Celebration of Investment Congress Awards 2023 took place in a grand gathering of esteemed leaders and organizations from the investment industry.
This prestigious event, led by the dynamic duo of Thomas Misse and Anna Stukkert, aimed to celebrate outstanding individuals and organizations who have made remarkable positive contributions, showcasing exceptional performance and innovation in their respective fields. Diverse sectors such as finance, fashion, and technology were honored for their remarkable achievements. In this article, we shine a spotlight on two remarkable awardees, Mykola Udianskyi, and Mikhail Romanenko, alongside other noteworthy participants who graced the occasion.
Congress AWARDS 2023: Celebrating Mykola Udianskyi's Remarkable Journey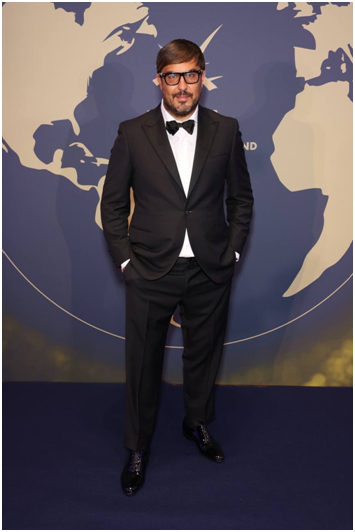 Mykola Udianskyi: A Visionary IT and Tech Entrepreneur
Mykola Udianskyi, a prominent and highly respected Ukrainian IT and tech entrepreneur, holds a remarkable presence in the industry. With a distinguished Ph.D. in Law, he possesses a storied background in cultivating blockchain and crypto enterprises. Beyond his entrepreneurial endeavors, Mr. Udianskyi is known for his roles as a social activist, philanthropist, and scientist, showcasing his multidimensional expertise.
As the President of the EHOLD group, Mr. Udianskyi leads a multinational organization with an expansive reach. With 10 offices spanning nine countries, EHOLD employs over 500 individuals who serve a user base exceeding 10 million across an impressive project portfolio. This portfolio boasts numerous successful projects and cryptocurrency exchanges, many of which rank among the prestigious Top 100. Notably, QMALL, the renowned Ukrainian exchange under EHOLD's umbrella, has played a pivotal role in driving digital currency adoption within the country. Its outstanding performance earned it the global distinction of being ranked number one for return on investment (ROI) in 2022.
Achievements and Accolades
Mykola Udianskyi's entrepreneurial ventures and outstanding accomplishments have earned him numerous accolades and well-deserved recognition. His visionary leadership and innovative contributions have positioned him among the top 100 richest Ukrainians, as recognized by Forbes. Moreover, his unwavering commitment to philanthropy and dedication to the betterment of Ukraine and its people have exemplified his noble character.
Throughout his illustrious career, Mr. Udianskyi has received a multitude of prestigious awards. Notably, he was honored with the Best Digital Currency Influencer 2022 award at the World Influencers and Bloggers Awards. Additionally, he secured the top spot on Hacker Noon's esteemed 2019 list of the Top 10 CIS blockchain entrepreneurs.
Mykola Udianskyi's journey stands as a testament to his unwavering passion, tireless dedication, and exemplary achievements within the realms of business, philanthropy, and digital innovation.
"BEST INVESTMENT PRODUCTS" – Congress AWARDS 2023 – Mikhail Romanenko
Mr. Romanenko – Founder of Danvel LTD and Eterninty Business Limited. President of Danvel Group.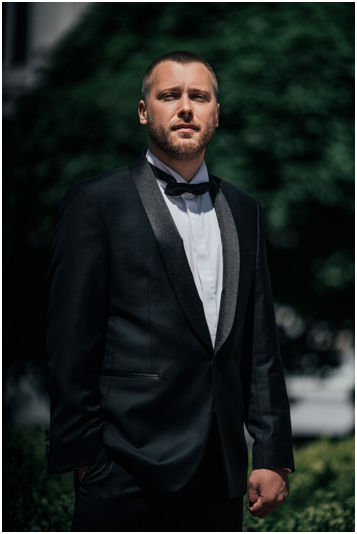 Mr. Romanenko – Founder of Danvel LTD and Eterninty Business Limited
Entrepreneur and investor. Philanthropist.
Co-Founder of the Danvel Group corporation Mikhail Romanenko with a fortune of $1.5 billion. Which includes Danvel.com and Eternity.Business. Was nominated by the International Investment Congress for "BEST INVESTMENT PRODUCTS" of the year and "Best Affiliate Program" of the year.
Michal Romanenko founded his corporation in 2014. It all started in Kyiv with a small office and 2 traders who wanted to join the community and make the largest community of traders. Now Mikhail's team is in the top 20 in the world in terms of trading in financial markets. The branches of the corporation are located in Dubai, London, Zurich, Vienna, and Singapore.
In 2022, the Danvel Group Corporation became a media partner of Formula 1.
Michal cooperates with such companies as JPMorgan Chase, China Construction Bank, ALIPAY, HSBC, BlackRock, and Goldman Sachs. Eternity Business Limited – is a diversified company specializing in trading in financial markets. The main activity is trust management of assets of private investors and venture funds.
"We can be proud of our talented entrepreneurs"- Anna Stukkert-president of the International Investment CONGRESS
What is ICLUB Congress partner ICLUB- is an international network of angel investors. We focus on the prominent early & growth stage companies from Fintech, Digital Health, Biotech, Deep tech (Infrastructure optimization, Robotics, Mobility & Logistics software, Cybersecurity), and Web3 (DeFi, Blockchain games).
The club closes 2–4 deals per month, attracting approximately $1 million in investment. ICLUB is an international network of angel investors.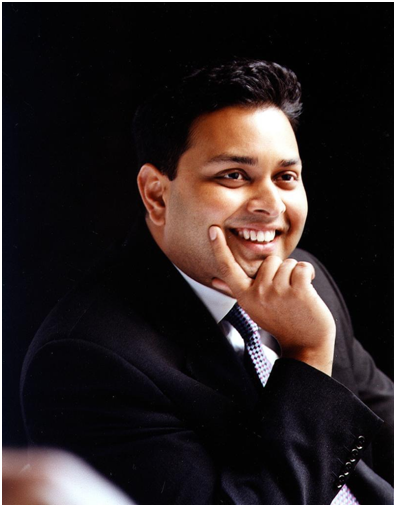 Kevin Rochay
Kevin Rochay and Rochay Group: Pioneering Ethical Investments and Philanthropy
In 1996, Mr. Kevin Rochay founded Rochay Group with a vision to create a sustainable world that upholds environmental values, respects human rights, and utilizes ethical resources. With an unwavering commitment, Mr. Rochay invested 99% of his net worth over six years into ethical production, enduring significant challenges along the way. Eventually, his perseverance paid off when his company struck a major gold vein in Tanzania, estimated to be worth a staggering $4.3 billion. Owning 80% of the gold mines, Mr. Kevin Rochay's estimated net worth now stands at $3.4 billion.
Beyond his dedication to business, Mr. Rochay is deeply passionate about giving back to society. He actively engages in charitable work, particularly focusing on children and animal welfare. As a patron of Lucy Air Ambulance for Children, he supports vital medical services. He is also a devoted advocate for Animal Aid Unlimited in India and spearheads a private initiative to provide care for stray dogs in Bali and Sri Lanka.
Investment Opportunities with Aurous Finance: Gold Industry in Sudan and Ethiopia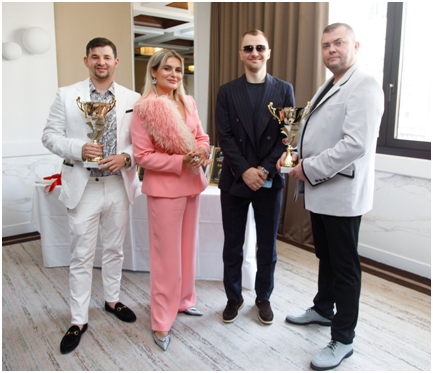 Dmitry Conoval – Aurous Finance, Anna Stukkert, Sergei Kell
For businessmen seeking lucrative investment projects, Aurous Finance presents compelling opportunities in the gold industry. In Sudan, Aurous Finance offers two prime gold mining sites in Port Sudan and Adbar. Notably, Adbar boasts approximately 2 tons of gold reserves, valued at over $500 million. The company has already extracted 65,000 tons of ore, amounting to $13 million in revenue. Aurous Finance's investment plan also includes the development of gold mining in Ethiopia. In addition to its business ventures, the company actively engages in philanthropic initiatives and has recently launched the NFT metaverse minerals mining platform.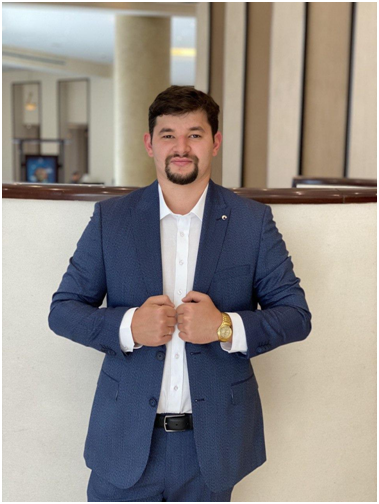 Dmitry Konoval
At the upcoming conference, Dmitry Konoval, the founder and CEO of Aurous Finance, will present carefully selected and promising investment opportunities for sale. These projects not only hold significant financial potential but also contribute to the advancement of the mining industry and the betterment of communities.
Mary Pearce is a Partner and CEO at Empire Real Estate Investments Qatar, known for her expertise in high-net-worth international real estate investments. Caroline Dufour is a determined and ambitious businesswoman with a background in catering, professional real estate, and her own champagne brand. Shifteh Maryan is an Austrian jewelry artist recognized for her extravagant and luxury style art pieces, showcased at prestigious events and Vienna Balls.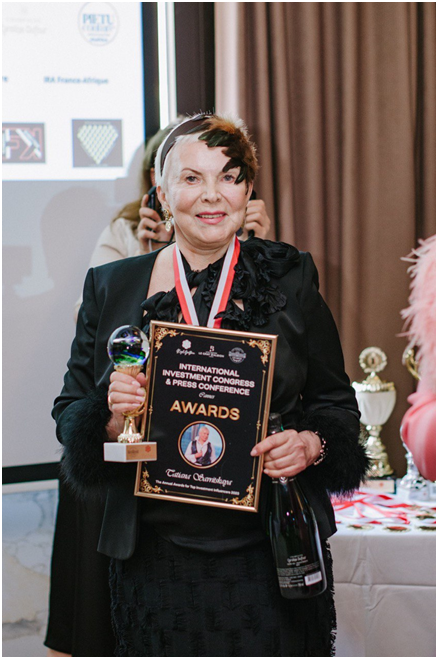 JUDY GREEN, the fashion brand founded by Tatiana Savritskaya
JUDY GREEN, a fashion brand founded by Tatiana Savritskaya, introduces an elegant collection inspired by Coco Chanel, perfect for empowered women in the business world.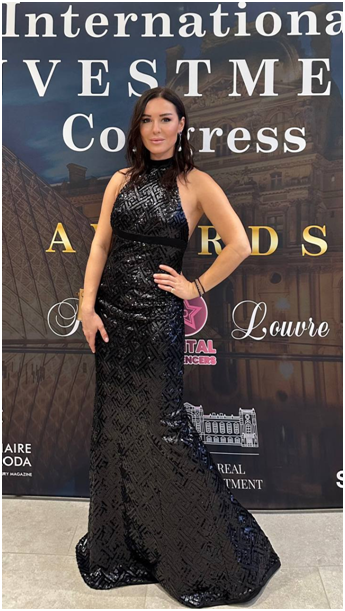 Liliya Tippets
Liliya Tippetts, a VIP guest from Monaco, is the founder of Porterium, a Web3 Fashion Art and Design marketplace curating international independent designers. The evening program includes the Royal Gentlemen Gala Dinner and Congress Awards, supporting IRA France-Afrique Charity, and featuring live music by Viktoriia Zadvorna. The fashion show presents designs by Wulan, while Nadine Podolskiy and Katya Volkova entertain with their performances. Mano, a renowned singer, collaborates with Snoop Dogg and has performed at prestigious events. The official partner for the Congress and Royal Gentlemen Gala is ANJA, a company organizing fashion shows and focusing on Asian and oriental fashion.
ALNY – AWARDS Digital Category – Congress AWARDS 2023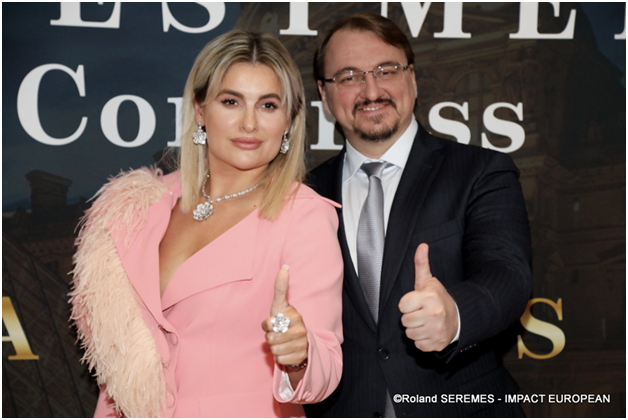 Founder & CEO ALNY Vakhtang Sophromadze with Anna Stukkert
Discover a wealth of knowledge from Vakhtang Sophromadze, Founder & CEO of ALNY, an online business platform. ALNY offers a range of preferences for its customers, including ongoing support and advising, gift certificates of 2000 euros for new business user accounts within the ALNY marketplace, closed business meetings and round tables with experts and opinion leaders through the Partner Program, and a mentoring program to boost business with expert guidance.
The ALNY marketplace within the ALNY Free Economic Zone charges a mere 2% commission, a significantly lower rate compared to other marketplaces that range from 20% to 80%. Furthermore, ALNY Metaverse presents a comprehensive platform merging structural programs, charity initiatives, tourism, gaming, and a marketplace within a captivating game world.
Natalia Kolieva – Director Luxury Brands of International Company Mulk
Heading the luxury brands division of the esteemed International Company Mulk is Natalia Kolieva. With a strong passion for delivering excellence, Mulk's dedication to luxury is unrivaled.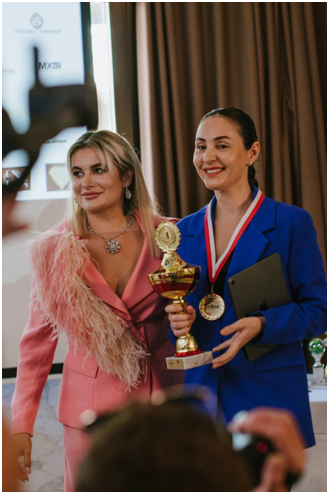 Anna Stukkert, Awards Person – Natalia Kolieva – Director Luxury Brands of International Company Mulk
Fab Furnish – the Premium Multi-Brand Furniture Division of REKHI GROUP OF Companies
At the helm of Fab Furnish and the REKHI GROUP OF Companies is Harpreet Singh Rekhi, the Founder Chairman. Harpreet hails from a family of businessmen with a remarkable legacy spanning four generations in real estate, agriculture, construction, and mining. His visionary leadership has positioned Fab Furnish as a premium destination for discerning customers seeking quality furniture.
Amidst the Congress AWARDS 2023, these exceptional individuals and companies stand as shining examples of excellence, innovation, and lasting impact within their respective industries.
Investment Persona Congress – Julia Savvides-Head of PR and Marketing Department of MXBI PROJECT.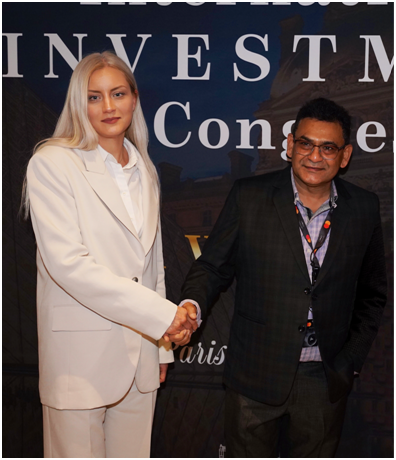 Julia Savvides
World expert on financial and economic issues, head of a European service company. MXBI is an affordable and professional project securing the money of clients and provides the possibility of high-understanding earnings. The new system of MXBI asset management uses the most profitable and reliable stock market instruments as a basis and maximizes their profitability using the latest crypto technologies.
The MXBI system has two main advantages that make it highly competitive: investments in mutual funds allow one to receive income in the form of real money and fixed minimum yield investments have been secured by the reserved fund of the most prestigious UK financial jurisdiction. Moreover, according to the agreement, this payment is made without acceptance. We have received 15 financial licenses as a fundamental part of our legal responsibilities. Thus, MXBI literally connects the prospective future technologies with the reliability of proven financial instruments.