Author Chris Laird continues to rejuvenated the science fiction community. He has brought a fresh new perspective of how we read about the unknown. Laird had a successful stage play last year titled, "The True Meaning Of Christmas: From The Perspective Of An Alien." The play was based off of a short story Laird wrote in 2019. His vision was to bring it on to the stage in 2020. But due to the pandemic, it was postponed for a year. Still concerned with the spread of Covid, Laird decided to post the play online and was a huge success. The play will return for another season in 2022 and  Laird is proud to collaborate with Skycraft Theater Works to host his play. The play will be on Saturday December 3rd in Rochester Hills, MI.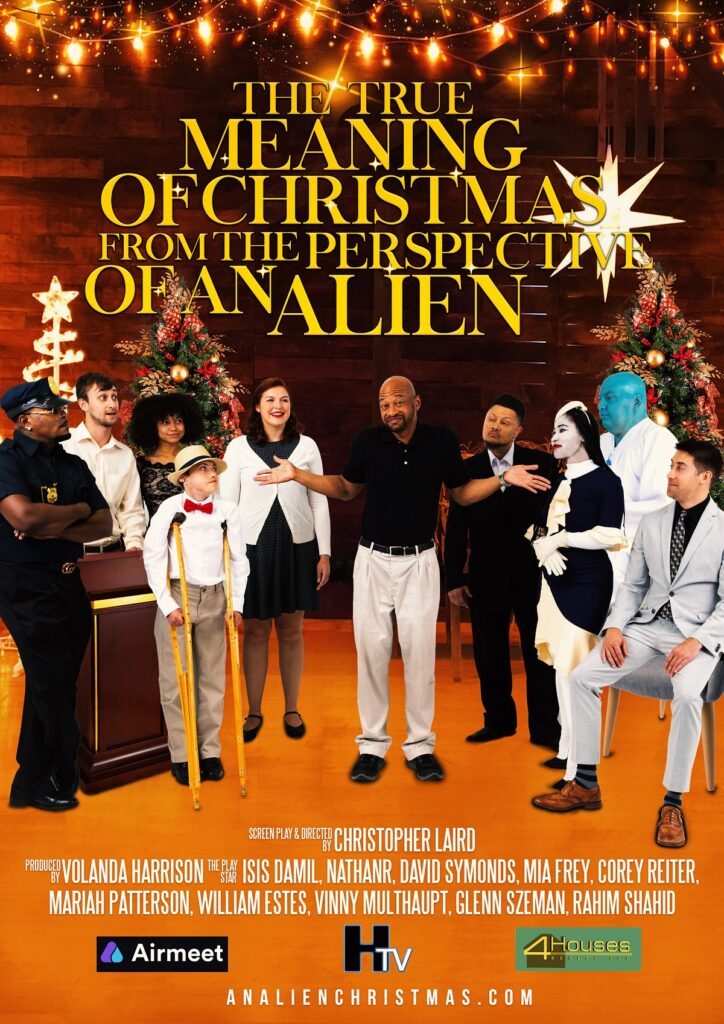 The play is about an alien, Xona Bari, who visits Earth during 1941. Xona is from the 28th century and lives 300 million light years from Earth from a planet called Mykia. She has a human boyfriend Monty Herrshoff(NathanR) and attempts to tell him some life changing news. Xona comes during Christmas time, and wonders what it is all about. Monty tries to show her, but he finds out he doesn't know much about Christmas either. They agree to find out what Christmas means together in this comedy and musical extravaganza. Fans can look forward to a live performance this year as well it being available online for everyone all over the world to watch.
The play, which also was part musical, received good reviews from several independent outlets. Given that this was Laird's debut as a director, he was able to steer this talented cast into a hit show. Lead actress Isis Damil played Xona Bari, a grumpy alien that does not understand what Christmas is. Isis demonstrated that she has a wonderful singing voice and acting skills to match. She was able to capture the personality of Xona Bari, and it was the first time fans of the series were able to see her live. "Isis did a wonderful job playing Xona Bari," Laird said of Isis Damil. "She totally devoted everything into the character, which I really appreciate. She made it a success." The play also had many great performances including Rahim Shahid(Security Guard), David Symonds(Eddie), and Vinny Multhaupt(George Sturgent). The role of George Sturgent, a boy with polio, moved many during the touching scene wear he was healed by Xona. Vinny Multhaupt has the skills to capture an audience.
Oaris, who was played by Mark Clark, reminded a lot of audiences of the ghost of Christmas future from the Charles Dickens novel, AChristmas Carol. His scene was regarded as one of the most entertaining scenes to watch with the foggy atmosphere and the haunting voice he projected. Oaris certainly had an intimidating presence. It was a departure from the Oaris that fans are familiar with in the series. "Mark Clark did a wonderful job as Oaris," Laird commented. Our original actor, who played Oaris was injured and we had to bring in Clark, within a week of filming. We had to change what Oaris looked like due to the lack of time to find the right person,"Laird said. The make up and facial features had to match to capture the aura of Oaris, which Mr. Clark did not have, so we made him a grim reaper type of character." People who saw the show enjoyed the mystery and power Oaris brought to the show. "We augmented his voice in the studio to make it sound more menacing. All he had to do was lip sync the words." Laird intends to hire back all of the same cast for the December 3rd show.
In addition to Chris Laird's collaboration with Skycraft Theater Works, his 5th book, ORIGINS 4: The Rise Of Mykia, will be released this spring. To learn more about Chris Laird you can go to www.chrislaird.net. To learn about the play, you can go to analienchristmas.com.