Kazakhstan's embassy released a video of the cargo arriving in Ukraine
The first batch of generators for medical institutions arrived from Kazakhstan to Ukraine. Anton Gerashchenko, an advisor to Ukraine's Minister of Internal Affairs, wrote on his Twitter account on 22 December: "The first shipment of generators arrived to Ukraine from Kazakhstan – it was sent by Kazakh business people with the support of the Kazakhstan embassy in Ukraine. There will be a total of 43 generators, all will go to medical institutions".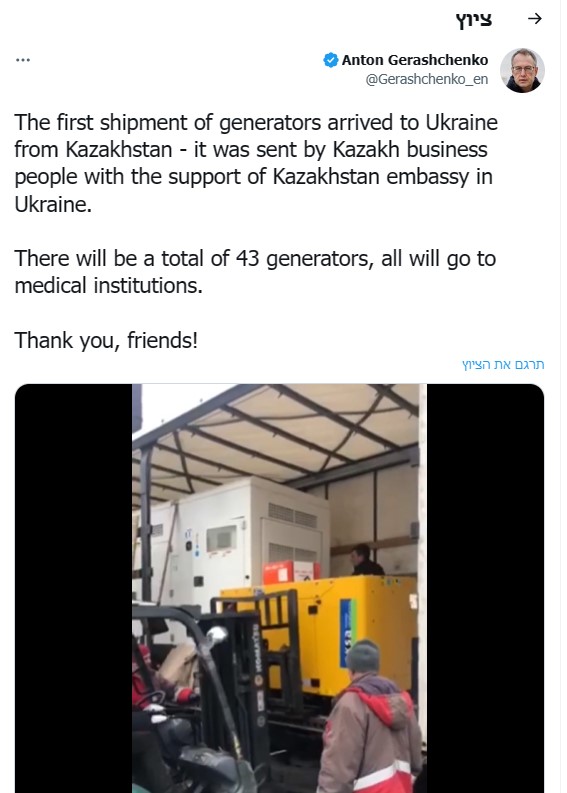 Indeed, altogether 43 generators were delivered during the last week of December 2022 from Kazakhstan to variable hospitals and medical institutions across Ukraine. They were sent by Kazakh businessmen with the support of the Kazakh Embassy in Ukraine. Kazakhstan's embassy in Ukraine released a video of the cargo.
According to Ukrainian Health Ministry, the Generators are aimed to be transferred to the most needed regions of Mykolaiv, Dnipropetrovsk, and Kharkiv. Health Minister, Viktor Liashko, said each of the generators would help provide uninterrupted power to operating rooms, intensive care units, and oxygen stations.